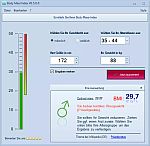 Dieser Rechner ermittelt aus Körpergröße, Gewicht, Alter und Geschlecht den so genannten Body-Mass-Index (BMI), eine Maßzahl, die das Verhältnis zwischen Körpergewicht und Körpergröße eines Menschen darstellt. Der BMI wird berechnet, indem das Gewicht in Kilogramm durch das Quadrat der Körpergröße in Metern geteilt wird (kg/m²). BMI wird häufig verwendet, um zu beurteilen, ob eine Person unter-, normal- oder übergewichtig ist. BMI unterscheidet zwar nicht zwischen Fett und fettfreier Masse (problematisch bei Sportlern und Bodybuildern), ist aber laut Statistik bei etwa 73 Prozent der Menschen ein ganz passabler Anzeiger des Körperfettanteils.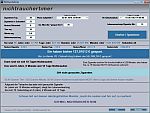 NichtraucherTimer berechnet, wieviel Geld Sie sparen können wenn Sie mit dem Rauchen aufhören. Außerdem zeigt das Programm, um wieviele Jahre die durchschnittliche Lebenserwartung steigt. Zum Berechnen der Daten geben Sie unter anderem die Anzahl der gerauchten Zigaretten pro Tag an sowie die Mengenwerte zu Teer-, Nikotin- und Kohlenmonoxidgehalt an. Ein wirklich gutes Programm!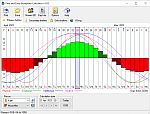 Free and easy biorhythm calculator is a powerful and easy-to-use application ideal for making personal forecasts. It is based on the western scientific theory of biorhythms, and contains additional features based upon oriental philosophy. Knowing your biorhythms, you can be sure about what to expect from each day in order to succeed at sports, dating, business, negotiations, exams, or job interviews. You can also see the amount of days you`ve been living on any given date. The best free biorhythm program for Windows!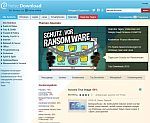 What f.lux does: The light that comes from computer and mobile phone screens has a real effect on the human circadian system, especially at night. Based on your wake time and location, f.lux creates a custom lighting schedule for you that changes every day throughout the year. By moving the sliders, you can fine tune the colors to fit your needs. A very good tool for longtime computer sessions. Windows has a slightly comparable option, but f.lux performs much better.
Workrave is a useful tool for anyone who spends a lot of time working on a computer and wants to prevent repetitive strain injury (RSI). It offers a variety of features to help users take breaks and stretch their muscles during extended periods of computer use. Workrave features exercises that users can do during their breaks to stretch their muscles and improve their posture. Workrave is highly configurable. You can configure how long each break takes, the amount time between each break, how strict the breaks are enforced and many other things.
With "Health Monitor" you have an overview of your medical measurements. Data such as weight, cholesterol, uric acid, body mass, fatty acids and blood sugar are summarised in a graphical diagram or written report. The individual data are displayed in colour-coded barometers and can be adjusted at any time. You then receive an overview which can be exported as a PDF if desired.
Health Diabetic Software is designed for people with Diabetes and/or Hypertension (High Blood Pressure due to heart disease). HDS records and graphs your Blood Glucose, Blood Pressure (Systolic, Diastolic, and Pulse), Weight, Temperature, A1c Test, Cholesterol, Supplements, Medications Schedule, Questions for the Doctor, Bowel Movement, Medical Team, Meal Plan, and Pain values. The software contains an array of statistics which can be viewed in line- or bar-graphs.